Let us never forget that government is ourselves and not an alien power over us. The ultimate rulers of our democracy are not a President and senators and congressmen and government officials, but the voters of this country.
–
Franklin D. Roosevelt
<Prev | Next>
Read the CIA's Simple Sabotage Field Manual: A Timeless Guide to Subverting Any Organization with "Purposeful Stupidity" (1944)
Read the CIA's Simple Sabotage Field Manual: A Timeless Guide to Subverting Any Organization with "Purposeful Stupidity" (1944)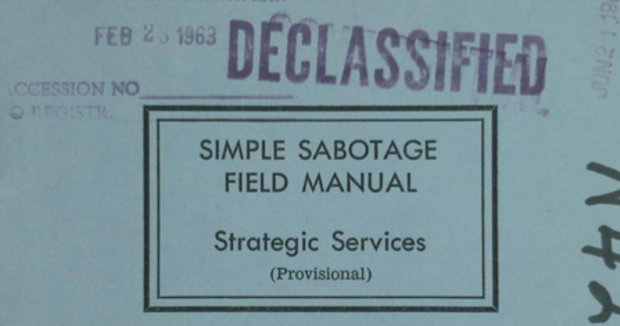 I've always admired people who can successfully navigate what I refer to as "Kafka's Castle," a term of dread for the many government and corporate agencies that have an inordinate amount of power over our permanent records, and that seem as inscrutable and chillingly absurd as the labyrinth the character K navigates in Kafka's last allegorical novel.
Source: www.openculture.com/2015/12/simple-sabotage-field-manual.html
More below the fold:

More »
---
Though El Paso doesn't seem pleased by that.
The ostensibly left/liberal NY Times ain't listening. This should be a surprise to no one. In fact this may be one of the few points on which left and right base agree.
The only thing more startling than the flurry of tax proposals Democrats have unveiled in recent weeks is the full-throttle response they've gotten from the public.

[…]

The soak-the-rich plans — ones that were only recently considered ridiculously far-fetched or political poison — have received serious and sober treatment, even by critics, and remarkably broad encouragement from the electorate. Roughly three out of four registered voters surveyed in recent polls supported higher taxes on the wealthy. Even a majority of Republicans back higher rates on those earning more than $10 million, according to a Fox News poll conducted in mid-January.
For Democrats Aiming Taxes at the Superrich, 'the Moment Belongs to the Bold'
For Democrats Aiming Taxes at the Superrich, 'the Moment Belongs to the Bold'
Soak-the-rich plans that seemed politically far-fetched just months ago are getting a full-throttle response from voters.
Source: www.nytimes.com/2019/02/08/business/democratic-wealth-tax-warren-sanders-ocasio-cortez.html
---
Worth reading through.  I don't know how much of it is conspiracy stuff or not but there's certainly food for thought.  And definitely grounds for pushing way past the midterms to taking back the government.
Monday
I'll tell you one thing though. A fucking gas-bag conservative pundit, whether Coulter or Hannity, should NOT have this kind of say over national questions and concerns. Fucking shut them the fuck up. They don't get to dictate course for the rest of the fucking country just because they get such a hardon for nasty shit and a lackwit wannabe tinpot dictator drools over their every word.
The details of the deal itself appear to still be in flux. A source briefed on the deal told TPM that the rough agreement cuts the number of detention beds available to the Immigrations and Customs Enforcement agency for undocumented immigrants, a point demanded by Democrats, and adds some money for new physical barriers at the border to please Republicans. According to the Washington Post, the deal cuts the total number of detention beds from 49,000 to 40,500, and gives $1.375 billion for border barrier construction — short of the $5.7 billion Trump has previously demanded.

Trump didn't signal whether he'd accept the deal.

"Maybe progress has been made, maybe not," he said during a Monday night rally.

And conservative commentators including Fox News's Sean Hannity attacked the agreement, an ominous sign for negotiators.
Are they? I want to see this translate into votes. So far, Трамп says jump and the GOP says HOW HIGH MASTER SIR. Pissed at him? Show us, you Трамп lickspittle lackies.
Tuesday
It's a gift…it truly is…
[Trump is] now getting slightly less than that $1.6 billion while also making a concession to Democrats on detention beds.

This is a big reason the deal was almost immediately rejected by Trump's most conservative supporters. Sean Hannity called it "garbage," Ann Coulter retweeted a bunch of people deriding the deal, and House Freedom Caucus Chairman Mark Meadows (R-N.C.) texted to The Post, "This does not represent a fraction of what the president has promised the American people … I don't speak for the president but I can't imagine he will be applauding something so lacking."

But even Meadows has conceded Trump has almost no leverage left in this shutdown debate. Republicans, including Meadows, have signaled they aren't prepared to shut down the government again at the Friday deadline. Without that, Democrats have no real reason to make concessions. Meadows has said he would support a regular, clean government funding bill if no deal can be reached.

That's a pretty attractive fallback if you're a Democrat. Democrats have now put Trump in the unenviable position of accepting a deal that is worse than what he began with if he wants wall funding, or rejecting the deal and risking congressional Republicans signing off on something with no wall funding, possibly leading to a veto standoff with his own party. And Republicans have put this deal on the table knowing that can't really do any better, given their leverage was sapped by the shutdown.
Unsurprising.
To the surprise of precisely no one.
If McConnell spends the next eternity screaming in hell, it won't be long enough.
Move along, move along folks. Nothing to see.  :-/
Peterson attributed the growing national debt to "a structural mismatch between spending and revenues." The biggest drivers are the aging population, high healthcare costs, and growing interest payments, combined with a tax code that fails to generate sufficient revenue, he said.
And since GOP considers taxes untouchable, look at what they'll put up on the chopping block. You already know they want to kill Social Security, Medicare and so on.
Wednesday
"Oh hey, they're having trouble paying back student loans? LET'S STARVE THEM TO DEATH." –xxoxoxo, GOP
Thursday
A few weeks before President Donald Trump's inauguration, then-DHS Secretary Jeh Johnson determined that DHS was responsible for helping protect election infrastructure—meaning polling places, voting machines, voter databases, and all the other components that make elections happen. The new, complex undertaking involved scores of state and local governments. A few years in, the department is still getting its footing. So the changes detailed here have people close to the department deeply concerned.

"Because it's a very difficult task and because DHS has never done it before, there's a lot of catching up to do," said the former DHS official. "Even with a fully resourced effort, that would be an extremely tall task. But having it be deprioritized and lacking access to senior leadership, it's virtually impossible."

That said, these changes appear to reflect the White House's lack of interest in beefing up election security, according to Paul Rosenzweig, formerly deputy assistant secretary for policy at DHS.
---
---
The president's relationship with Deutsche Bank intrigues investigators for several reasons. Trump turned to the big German bank two decades ago, when U.S. banks wouldn't extend him more large loans. The Post estimated in 2016 that Deutsche Bank had $360 million in outstanding loans to Trump's companies. Deutsche Bank also lent $285 million to Jared Kushner's family real estate company in October 2016.

Investigators have noted other points of interest: Deutsche Bank, unusually, managed its lending to Trump through its private-banking division rather than normal commercial lending. Finally, the bank has been implicated in Russian money laundering, paying $630 million in fines in 2017 to settle U.S. and British charges that it had improperly transferred $10 billion from Russia.

Trump last week tweeted his indignation at Schiff for "looking at every aspect of my life, both financial and personal," and calling the House probe "Unlimited Presidential Harassment."

Trump's bizarre claim that the subject of an investigation has the right to circumscribe the inquiry into his conduct dates back to a July 19, 2017, interview Trump gave to the New York Times. Asked whether a Mueller probe of his finances would be a "red line," Trump answered, "I would say yeah." He then offered a rambling defense, saying at one point, "I don't do business with Russia."
Friday
It's really quite amazing to watch his sing-song delivery. I'm not kidding. I only wish captions could show this.
And so much for our international relations.
---