I met Jerry Brown back in the seventies, as a Girl Scout on a field trip. He met us on the stairs of the government building, shook our hands, and sent us off on a tour of the building which finished up in his office for some Q&A.
So you know, for years and years I had this mental image of him with this big shock of brown hair 🙂
Anyway, this is a good read. This particularly caught my eye, bolded below. I think I'm pretty progressive. I'm on board with AOC, I think we need some kind of universal health care, I think the GOP are complete ghouls. But this point, that we should solve problems instead of just passing laws seems like a really good point. Lots of laws don't do much good when, for example, regulatory capture exists. You want to step back and solve the problem rather than blindly continue with more regulation to somehow stop that.  This is a hard thing to do. I also disagree with Brown that the taxation of the rich is a problem–they are not going away. If the economy as a whole crashes, so does the entire damn country. I'd like to see a lot more attention paid to the sweet ride that the fossil fuel companies get and to claw back those deals. I really want to see Nestle's water activities stopped cold in CA (in the US, but hey). And so it goes.
In 2011, the governor shocked legislators, including many of his fellow Democrats, when he vetoed a bill that would have required helmets for skiers and snowboarders under 18.

The Legislature was usurping the role of parents, he said in his veto message, adding, "Not every human problem deserves a law."

Attempting to change that legislative culture wasn't one of his most successful efforts, Brown admitted.

Gov. Jerry Brown is escorted from the governor's mansion to the Stanley Mosk Courts Building in Sacramento.| Santiago Mejia / The Chronicle

"The Legislature exists, in their minds, to produce more laws," he said. "They don't exist to solve problems, they exist to make laws. Now, they'd like to solve some problems along the way, but the essential functioning of a legislature is lawmaking."

In Brown's 2013 State of the State address, he suggested that legislators "lay the Ten Commandments next to the California Education Code" to see how the legal system has changed.

Brown didn't excuse himself from abetting the wave of legislation, admitting that he often signed bills while shaking his head.

"We have more lawmaking than in any time in human history," the governor said. "Many of the laws are stupid. Many of them are not warranted. But in order to get along with the Legislature, you've got to sign bills that aren't needed. And you even have to sign bills that you'd prefer not even to have."

That's just one place where Brown has run afoul of the all-or-nothing approach of California's increasingly progressive Democratic Party. The governor's willingness to cut deals when he needed Republican votes, as he did to get the state gas tax increase passed in 2017, and his tightfisted refusal to spend much of state's surplus on education and social programs has left many Democrats looking to Gov.-elect Gavin Newsom for changes.

"You can't solve everything, ever," Brown said. "What's hard is when you're in conflict, and you know if you say 'no,' maybe next time they'll say 'no' to you. So this is a give-and-take business. Just like I ask them to do something they don't want, they get to ask me to do something I don't want."
---
What Jerry Brown learned leading California: 'You can't solve all problems'
What Jerry Brown learned leading California: 'You can't solve all problems'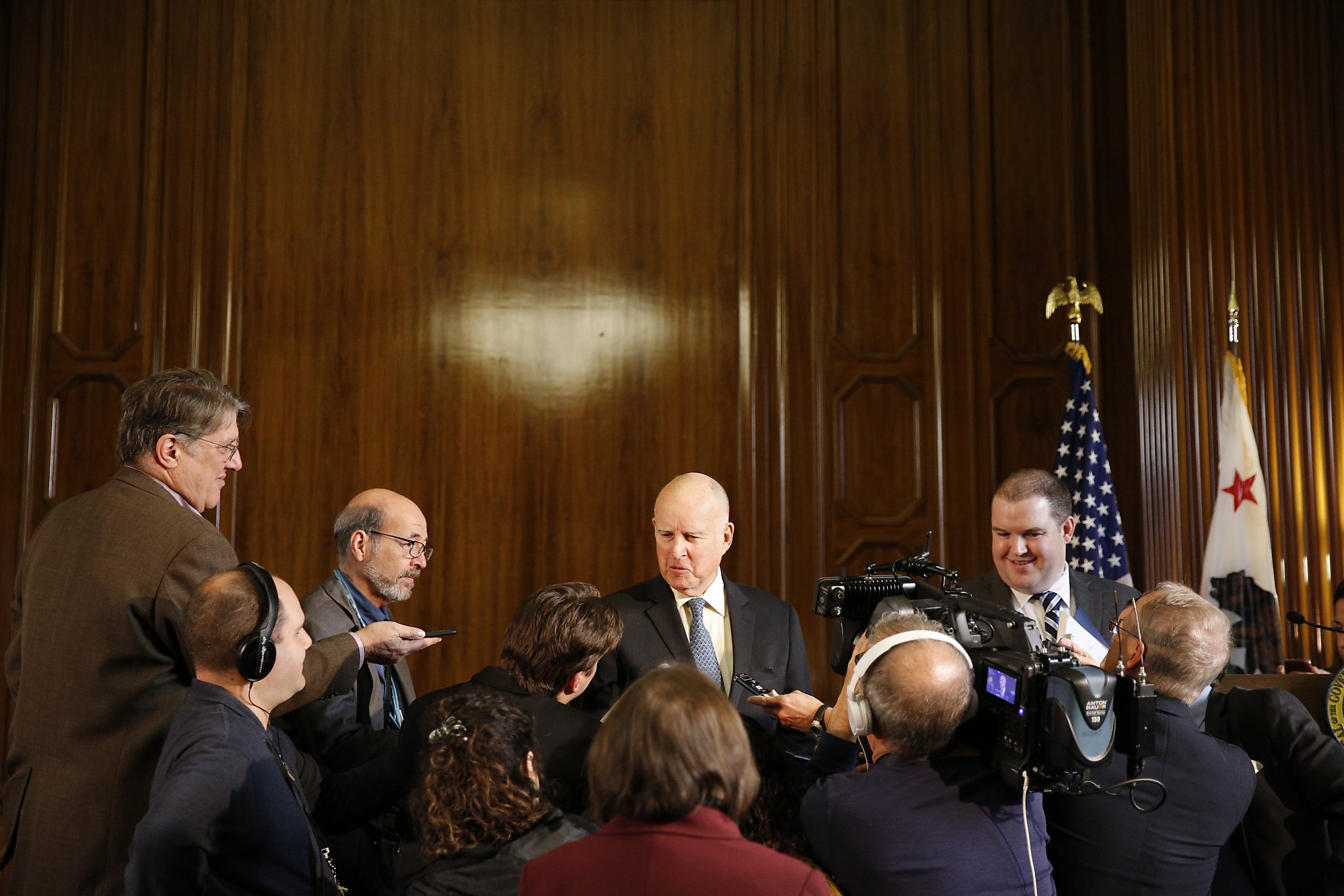 SACRAMENTO – When Jerry Brown's fourth term in office ends Monday, he'll be leaving as California's oldest and longest-serving governor, a politician whose split tenures bookend 44 tumultuous years in the state and in the nation. It's also a job he's leaving with few regrets – and, he says, a far greater understanding than he once had of what any one governor can accomplish. "Maybe I'll miss the mansion," Brown said in an interview in the breakfast room of the three-story Victorian on H Street that housed its first governor in 1903. "It's very nice here." But for all Brown's protestations that "I don't look back much," he's quick to boast of "an extraordinary period" when it comes to his last two terms.
Source: www.sfchronicle.com/politics/article/What-Jerry-Brown-learned-leading-California-13507165.php