"In the United States of North America, every independent movement of the workers was paralysed so long as slavery disfigured a part of the Republic. Labour cannot emancipate itself in the white skin when in the black it is branded."
– Karl Marx
<Prev | Next>
More below the fold:

More »
tl;dr
So 2019's first week opened with a bang (no, not all the fireworks on NYEve, c'mon people!)
Thursday marked the opening of the second session of the 116th Congress, which saw Nancy Pelosi's return to Speaker of the House (amid some very cute videos of an ecstatic granddaughter applauding Pelosi for all she was worth). Dems are pushing for solutions (and passed at least one the very same day) to the shutdown that started in December while Трамп continues to whine and complain (including several epic twitter meltdowns, especially as he didn't get to go to Mar-a-Lago for the holidays and instead outed covert operations in Iraq–and insulted the Iraqi government to boot).
Amusingly enough the GOP went into meltdown over a video of Alexandria Ocasio-Cortez (AOC) dancing…ten years ago…in college…to a hilarious remix of Brat Pack movies. To recap, QAnon pulled a few scenes from this <Phoenix – Lisztomania – Boston University Brat Pack Mashup> and put together a short video accusing AOC of being frivolous, etc. This backfired spectacularly and they pulled their video, though you can see it with a different soundtrack here <I took that video of AOC dancing and turned it into an ad for Medicare For All with a catchy theme song.>. In the end Ally Sheedy and Molly Ringwald both tweeted their complete approval of AOC's dance moves in this awesome recap <The delightful dancing video of AOC that is being circulated right now is actually part of a pretty storied, if now mostly forgotten, remix culture phenomenon.>. So, folks… Dance like you mean it, dance so that the GOP is still watching you ten years later!
Also, conservatives melted down over Congresswoman Tlaib's use of Thomas Jefferson's copy of the Quran and subsequent announcement "We're going to impeach the motherfucker!" Go, you. See here: <Racists explode after Democratic House member is sworn in with Thomas Jefferson's copy of the Koran>
Speaking of the new Congress, it's worth noting how different the Democrats and GOP look. The former are an incredibly diverse lot, with more women than at any previous time, and far more diverse with race & religion as well. The GOP are just a sour dumpy lot of old white men. See here <New members sworn in to most diverse Congress ever – in pictures > and here <The House of Representatives Is Different Now. The Future Is in It.>.
Meanwhile things are devolving into sort of a frenzy around the shutdown, with the House busily passing proposed funding alternatives and Трамп blustering about claiming everyone is deliriously happy with the shutdown because they all want the WALL. In stark contrast to the Трамп admin which seems not to understand the scope of the shutdown and the ripple effects, the House is also busy setting up to defend the ACA in the incredible circus going on down in that Texan courthouse and is putting up bills for transparency and accountability. It's a pretty busy two days in the House!
One thing that is not happening with the shutdowns: TAX RETURNS. Трамп wants to keep the shutdown going for years? Fine. No more paying taxes until refunds are cut, FFS
Tuesday
I give the media a lot of shit for its shortcomings but that's because it is extraordinarily important, and it tends to fall flat on its face instead of doing its job.
---
Yeah, Happy New Year, everyone. Don't listen to our jerkwad of a president. Cuz you know, he's got nothing better to do.
Trump brutally mocked as he celebrates the New Year by melting down for hours on Twitter
Trump brutally mocked as he celebrates the New Year by melting down for hours on Twitter
President Donald Trump began 2019 the same way he ended 2018: by unleashing angry tweets against his perceived political enemies to support his border wall. Trump, reportedly frustrated over not traveling to Mar-a-Lago to golf, has been livid at congressional Democrats for not funding the border wall he had promised that Mexico would fund. On New Year's Eve, Trump attacked Democrats for not approving funding for his wall. "MEXICO IS PAYING FOR THE WALL through …
Source: www.rawstory.com/2019/01/trump-brutally-mocked-celebrates-new-year-melting-hours-twitter/
---
Another pending SCOTUS case to pay attention to:
Conservative Supreme Court could reverse decades of First Amendment law
Conservative Supreme Court could reverse decades of First Amendment law
If justices abandon precedent and adopt the 'coercion standard,' it would do far more than uphold a historic memorial cross in Maryland.
Source: thehill.com/opinion/judiciary/423129-conservative-supreme-court-could-reverse-decades-of-first-amendment-law
---
More Happy New Year from the US! /facepalm
U.S. fires tear gas across Mexico border to stop migrants
U.S. fires tear gas across Mexico border to stop migrants
U.S. authorities fired tear gas into Mexico during the first hours of the new year to repel about 150 migrants who tried to breach the border fence in Tijuana.
Source: www.pbs.org/newshour/nation/u-s-fires-tear-gas-across-mexico-border-to-stop-migrants
---
Wednesday
Oh, nice. Some really good stuff here, including:
1. Creating a committee to address climate change. The panel will not have subpoena power or the ability to introduce legislation so it will not be as powerful as a similar committee created by Pelosi during the previous Democratic majority from 2007 to 2011, but the issue is expected to be a major priority for the party's progressive wing.

2. Creating a bipartisan select committee tasked with coming up with proposals to "modernize and improve" the way Congress operates.

3. Setting new ethics rules that prohibit lawmakers and aides from sitting on corporate boards and a new requirement for annual ethics training for all lawmakers.

4. Reviving a rule that requires 72 hours before major legislation can get a vote in the House to ensure all lawmakers have time to review the bill.

5. Amending rules to extend bans on discrimination on the basis of sexual orientation or gender identity and to allow religious headwear to be worn in the House chamber — an accommodation for Rep.-elect Ilhan Omar, D-Minn., a Muslim woman who wears a headscarf.
Democrats Unveil Changes To House Rules On Debt Ceiling, Ethics
Democrats Unveil Changes To House Rules On Debt Ceiling, Ethics
The new rules include automatically increasing the debt ceiling when a new budget is passed and setting up a committee on climate change.
Source: www.npr.org/2019/01/02/681547346/democrats-announce-major-changes-to-u-s-house-rules
---
Nope, he sure doesn't.  Now, we just have to get Schumer on a similar page (modulo, of course, him being the minority leader in Congress).
Pelosi has her plan ready to go: Pass a clean resolution for six of the seven appropriations bills to fund through the end of the fiscal year and the Homeland Security appropriations through Feb. 8. Trump cannot prevent her from doing it, nor can Freedom Caucus gadfly Rep. Mark Meadows (R-N.C.), who declared the move a "non-starter" — as if his consent were necessary.

We'll have to see how Pelosi manages Trump's temper tantrums, lies and incoherence but so far the approach has been four-fold. First, engage the president publicly and correct him/fact-check him in real time. This reminds voters that Trump is not operating in the real world and his positions aren't tethered to reality. Second, make certain Trump is on the wrong side of public opinion. In the case of the border wall and the shutdown, voters oppose both. This further diminishes Trump's leverage and puts pressure on Republicans to split from him. Third, make clear, concise statements of policy. This gives voters a sense that she is in command while Trump blathers on for days, changing his mind and contradicting his advisers. Finally, don't negotiate against herself. Trump, as she wisecracked, has gone from a wall to slatted fence to "a beaded curtain." Mocking Trump and pointing out his weakness infuriate him, demoralize his cult-followers and delight her base.
Opinion | Trump doesn't understand his leverage is gone
Opinion | Trump doesn't understand his leverage is gone
Pelosi will ignore his spin
Source: www.washingtonpost.com/opinions/2019/01/02/trump-doesnt-understand-his-leverage-is-gone/?utm_term=.87633464a043
---
:-/
Pay attention.
But it's that simple phrase, "presidential harassment," that jumps out. This is the eighth time he's employed it, according to Factba.se, with uses coming more frequently of late. The nascent rise of the phrase is an indication that Trump feels newly embattled, but it also underscores the way he tries to construe any criticism of himself as illegitimate.
Good news. (Yes, there's a Dem gerrymander in Maryland (I think) that also needs to go away too.)
---
Derp derp derp herpity derp…
Balls are… well hell, we've got the brass balls. Your turn GOP.
Friday
This sends a terrible precedent to other non-democratic countries that they can get away with ignoring the UN too.
Quietly and unnoticed, the state department has ceased to respond to official complaints from UN special rapporteurs, the network of independent experts who act as global watchdogs on fundamental issues such as poverty, migration, freedom of expression and justice. There has been no response to any such formal query since 7 May 2018, with at least 13 requests going unanswered.

Nor has the Trump administration extended any invitation to a UN monitor to visit the US to investigate human rights inside the country since the start of Donald Trump's term two years ago in January 2017.
It's almost like the GOP and Трамп administration have something to hide…
I actually don't care a whole lot about the speculation on what's going on, but I DO find the graphics and stats interesting and would love to see the comparable data for the past several presidents (well probably not the tweeting ratio since it wouldn't exist) as well. It <b>is</b> interesting to see that the tweet rate vs inactive phases doesn't hold up as well as popular speculation has it, though.
It has been more than a month since Trump even played golf, the longest stretch of his presidency. It has been more than a month since he held a rally. There are only sporadic public meetings.

He's not even tweeting that much. There's this idea that, on days when he's unoccupied, he tweets a lot, but that's not really true. Since July 1, 2018, he has tweeted, on average, 11.1 times a day. Over the past week, he has tweeted an average of 8.4 times a day. (On days without anything on his schedule since July 1, he has tweeted an average of 9.9 times a day, compared with 11.4 times on days when his calendar lists events.)
Speaker Pelosi continues to pummel.
Pelosi sends a message to Trump as the press covers a 'power shift'
Pelosi sends a message to Trump as the press covers a 'power shift'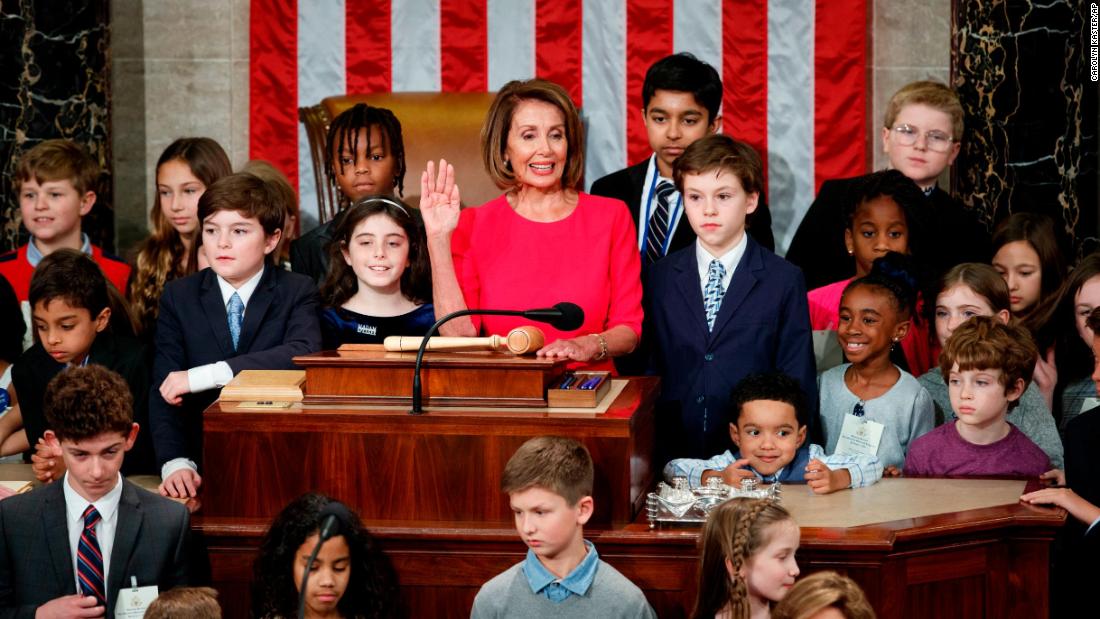 Soon after Nancy Pelosi took control of the House, she issued an official invitation to President Trump to deliver the State of the Union on January 29.
Source: www.cnn.com/2019/01/03/media/reliable-sources-01-03-18/index.html
---
Oh that's going to go over really well.
The pay raises for cabinet secretaries, deputy secretaries, top administrators and even Vice President Mike Pence are scheduled to go into effect beginning Jan. 5 without legislation to stop them, according to documents issued by the Office of Personnel Management and experts in federal pay.

The raises appear to be an intended consequence of the shutdown: When lawmakers failed to pass bills on Dec. 21 to fund multiple federal agencies, they allowed an existing pay freeze to lapse. Congress enacted a law capping pay for top federal executives in 2013 and renewed it each year. The raises will occur because that cap will expire without legislative action by Saturday, allowing raises that have accumulated over those years but never took effect to kick in, starting with paychecks issued next week.

Cabinet secretaries, for example, would be entitled to a jump in annual salary from $199,700 to $210,700. Deputy secretaries would be entitled to a raise from $179,700 to $189,600. Others affected are under secretaries, deputy directors and other top administrators.

The pay of Vice President Mike Pence is scheduled to rise from $230,700 to $243,500.
Just…no.
The president, when asked by ABC News' senior national correspondent Terry Moran during a press conference, acknowledged that he would consider declaring a national emergency to help get funds to build the wall "for the security of our country".
That should make the military really, really happy. C'mon Трамп, if you're going to go for a coup to stay in power, you probably want the military in your pocket. Just sayin'.
Earlier Friday, multiple sources familiar with the ongoing discussion told ABC News that options could include reprogramming funds from the Department of Defense and elsewhere – a move which would circumvent Congress.
Well…that's pretty consistent with this utterly ignorant, crass, and disorganized (to be as kind as possible) administration.
The Trump administration, which had not anticipated a long-term shutdown, recognized only this week the breadth of the potential impact, several senior administration officials said. The officials said they were focused now on understanding the scope of the consequences and determining whether there is anything they can do to intervene.

Thousands of federal programs are affected by the shutdown, but few intersect with the public as much as the tax system and the Department of Agriculture's Supplemental Nutrition Assistance Program, the current version of food stamps.

The partial shutdown has cut off new funding to the Treasury Department and the USDA, leaving them largely unstaffed and crippling both departments' ability to fulfill core functions.

The potential cuts to food stamps and suspension of tax refunds illustrate the compounding consequences of leaving large parts of the federal govern­ment unfunded indefinitely — a ­scenario that became more likely Friday when President Trump said he would leave the government shut down for months or even years unless Democrats gave him money to build a wall along the U.S.-Mexico border.
And it's long past time to fix this about SNAP. Just fund it. FEEDING CHILDREN, OKAY?!
The SNAP program is rare among federal initiatives because it requires annual funding from Congress but its existence is automatically renewed.
Mmm, yeah. You do know the TSA folks are starting to call in sick, now that they're being called in to work WITHOUT PAY?
Dem House looking to intervene in a couple of court cases over the ACA.
Democratic leaders, after an approving vote on the House floor on Thursday, filed their motion Friday with the US district court in Texas that's considering the case. Their attorneys asked that the House be permitted to "exercise its right to intervene … so that it may defend the validity of the ACA."

They cited a long list of federal statutes and case precedents to justify the motion. The Democratic brief noted that the Justice Department, which would usually be tasked with defending a federal law from a legal challenge, has instead decided to join the Republican-led states in arguing that Obamacare's individual mandate and other key provisions in the law are now unconstitutional.
---
Saturday
Do you blame 'em? I don't. Back pay doesn't cover bills due now. And Трамп apparently intends to dig in for months,  years (ha ha ha) if necessary to get his wall. Right.
Remember also–and this is a fact that GOP want you to NOT know–that tax brackets only tax the money in that bracket. For a simple example, say that the tax goes from 30% to 70% at $200K. THIS DOES NOT MEAN YOU ARE TAXED AT 70% ON ALL YOUR MONEY IF YOU HIT $210K. No. It means the first $200K (minus one dollar or whatever) is taxed at 30% and THEN the remaining $10K is taxed at the NEW RATE.
If anything AOC is aiming too low, but you gotta get a foot in the door.
Historically, the United States used to have many more tax brackets, and the top marginal tax rates were extremely high. Under Eisenhower, the top earners paid a 91 percent marginal rate, falling to Ocasio-Cortez's proposed 70 percent under Kennedy and Johnson, before falling to 50 percent after Ronald Reagan's first big tax cut, and then down to 38 percent after the 1986 tax reform.

One big part of that story is that before 1986 the tax base was considerably narrower. Rich people used to have a lot more loopholes and deductions of which they could avail themselves. The 1986 law closed a lot of those loopholes, but also cut the top rate.

But another part of the story is that there used to be more tax brackets. Right now a single person earning $550,000 a year pays the same marginal rate as a person earning 10 or 50 times as much. Under the old tax code, the top rate was reserved its top rate for the super-duper rich.
What is this I don't even
The president reportedly used the word "f—" during the meeting, according to multiple reports.

He also said he preferred the word "strike" to "shutdown."

Hundreds of thousands of federal employees have been furloughed or forced to work without pay due to the partial government shutdown, which began Dec. 22 amid a standoff over Trump's demand for billions of dollars in border wall funding.

Trump on Friday also threatened to keep the government closed for "years," if needed, in order to get his long-desired border wall, something he confirmed to reporters from a press conference in the White House Rose Garden.

A source said Democrats in Friday's meeting were shaking their heads at the president's behavior.
Guess Tlaib's off the hook now.
Uh, he's been spouting Russian agitprop for at least <checks watch> two years now, guys…
By the way, here be the deets. Also, none of the money previously allocated to the wall have been used yet. See also: How much has been spent so far on Donald Trump's border wall?
Anyone shocked?  You shouldn't be.
That's one way to frame it. I don't think it's accurate though. McConnell refuses to put anything up for a vote that doesn't have the approval of the WH but that is his call. Nothing requires him to do that. I don't remember if there's anything equivalent to a vote of no confidence in a Senate Majority Leader mid-tenure.
A  useful read by the way. Also, we have technically been in a state of emergency since (I kid you not) 9/11 (see first answer at link below).
Whoa. Note that Representatives sit at the pleasure of the House, though. There's constitutional and legal grounds here.
The House Administration Committee, now controlled by Democrats, has the authority to call for another election after investigating the 2018 results.
Oh, look at what just got introduced in the Senate as S.1 (first bill of the 116th congress). A bipartisan bill that supports the anti Israel boycott bills. Fuck that shit. We boycotted South Africa in the 80s to end apartheid. Many of us would consider it a good idea to boycott Israel and it certainly is a First Amendment right to do so. It shames me that this isn't a GOP bill but is supported by Democrats too. As the ACLU put it last October:
We take no position on BDS but we do assert that states should not be deciding
with whom they do business on the basis of protected expression and association or
ideological predisposition, as we have consistently argued in situations where
government entities have threatened to boycott Nike in response to its message of
support for Colin Kaepernick.

This is especially true where the ideological position has no connection whatsoever with the business relationship at stake
ACLU Statement on S. 170, the Combating BDS Act
ACLU Statement on S. 170, the Combating BDS Act
Jump to navigation Skip navigation
Source: www.aclu.org/legal-document/aclu-statement-s-170-combating-bds-act