There's quite a few articles out there now, partly because the narratives are starting to multiply. It's not just Wikileaks anymore. There are several stories now — Assange, Manning, Anonymous; analysis and reactions to the Wikileaks narrative. But first, I want to highlight one I especially liked: The mouse in the room
'You see these dictators on their pedestals,' Winston Churchill growled in 1936, 'surrounded by the tanks of their armies, and the truncheons of their police. A mouse, a little tiny mouse, of thought, comes into the room, and even the mightiest… potentates… tremble.' Assange today is that mouse of thought, in a thousand throne rooms at once, and the mightiest of the earth are trembling, and bellowing for his head.
If you read no other link in this collection, read this one.
The poison pill
This information bears repeating:
Some time ago, Wikileaks made available on its website an encrypted document called "Insurance file", which has been downloaded more than 100,000 times to date. At the moment, no one has the key to decrypt and read the contents (presumably the entirety of the leaked material). Without knowing the key, I don't know how long it might take to crack it, but knowing Wikileaks, the key is probably of a sufficient size to make the algorithms run for a long, long time.
If – or when – Wikileaks releases the encryption key for the file, the whole world will know what it contains, all at once. There is no possible way to suppress this if that key comes out.
Julian Assange
The man at the perceived center of the storm (depending on which narrative you follow, of course): Love him or hate him.
Michael Moore: Why I Posted Bail for Julian Assange
J'Accuse: Sweden, Britain, and Interpol Insult Rape Victims Worldwide
Q&A: Julian Assange's legal battle
Julian Assange: Readers' Choice for TIME's Person of the Year 2010
Bradley Manning
There has been perhaps curiously little about the man who turned over the diplomatic cables to Wikileaks. Still, more information is beginning to emerge. There are growing calls to name him a hero, including the oft-maligned 'Republic of Berkeley' (which as often proves to be a harbinger of the future). There's issues with his defense, how he was turned in and reconstructions of how he accomplished what he did.
Manning up: move to crown Bradley the WikiLeaks 'source' a hero
Manning defense has seen no WikiLeaks aid
Berkeley bashing: A favorite sport
Alleged leaker Bradley Manning's steps retraced
Anonymous
We've already seen Anonymous "declare war", and take down several "anti-Wikileaks" sites. In this interview, one of the participants describe their actions as civil disobedience — resulting in the near instataneous explosion of the word "hacktivist" across the 'net in record time. Their words may be disjointed, to those not familiar with chat rooms but it's worth reading through.
Anonymous Words: An Interview With Operation Payback Hackers
Reactions
Have been, predictably, widely varied depending on which narrative has been chosen to view ongoing events. But there were a few surprise ones. Gates made very interesting observations to the effect
"Let me just offer some perspective of somebody whose been at this for a long time," said Gates, a former director of the CIA. "Every other government in the world knows the United States government leaks like a sieve, and it has for a long time."

Gates then reached back more than 200 years to quote the second president, John Adams, bemoaning the same problem: "How can a government go on, publishing all their negotiations with foreign nations, I know not. To me it appears as dangerous and pernicious as it is novel."
If I recall my history correctly, Adams was behind the infamous Sedition Act (which to his credit he later regretted) but he was especially annoyed with how the media would cover him and his activities.
Gates: Warnings of WikiLeaks fallout overblown
U.S. Air Force blocks NYT, Guardian over WikiLeaks
Chomsky signs Australian letter of support for Assange
Noam Chomsky: WikiLeaks Cables Reveal "Profound Hatred for Democracy on the Part of Our Political Leadership"
And the best one: https://xkcd.com/834/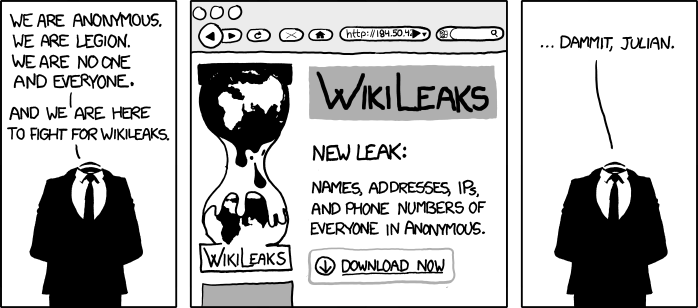 Heh.
Opinions and Perspectives
I tend to especially like these articles. They're wonky writers like me who wonder about the meanings of the narratives and the possible consequences. Alternet's article on the New Civil Disobedience is particularly good.
The past week has been like a tournament
The mouse in the room
The Wikileaks Double Standard
Attempts to prosecute WikiLeaks endanger press freedoms
Are the Cyber Battles with the Enemies of WikiLeaks the New Civil Disobedience?
No Act of Rebellion Is Wasted